Yuki Saito - Singer & Songwriter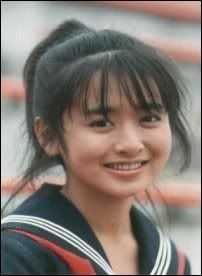 (斉藤 由貴, Saitō Yuki) is a singer songwriter, actor born in Minami-ku, Japan. Her married name is Yuki Isarai (小井 由貴, Isarai Yuki), though she continues to work under her maiden name. Saitō is well-known in Japan for being a member of The Church of Jesus Christ of Latter-day Saints . She drew some attention to that fact when she first began her career because she refused to work on Sunday. Her hobbies include
songwriting
,
illustrating
and reading.
In 1984, while attending high school, Saitō won the third annual "Miss Magazine" Grand Prix contest run by
Kodansha
. She made her singing debut in 1985 with her release Sotsugyō, and the telephone cards used to promote the single began selling for over ¥100,000 each (despite not being printed by
NTT
), setting the stage for her goods going for a premium whenever they appeared. She became one of the most popular idols in the 1980s.
That same year, Saitō took the leading role in
Sukeban Deka
, a TV series following the exploits of Saki Asamiya, a high school delinquent who is pressed into service as a
yo-yo
-wielding undercover police officer sent to a high school known for its vicious gangs. The outrageous plots in each episode earned Saitō overnight success, and the scenes where she used the yo-yo were the most popular.
Saitō was selected to play the
heroine
in the
NHK
morning TV novel series
Hane Konma in 1986. This series garnered a rating of over 40% for its timeslot, and made Saitō a household name throughout Japan. At the end of the year, she was the captain of the Red Team on
Kōhaku Uta Gassen
, where she debuted her song, Kanashimi yo Konnichi wa, the first opening theme for the
anime
TV series
Maison Ikkoku
. This song became one of the most popular anime theme songs of all time
[1]
. She would later, in 2007, perform both the opening and ending theme songs for another anime series,
Les Misérables: Shōjo Cosette
, an adaptation of
Victor Hugo
's
classic novel
and
Nippon Animation
's latest continuation to their famed
World Masterpiece Theater
series. Interestingly, Saitō had earlier played the title character, Cosette, in its 1987
musical version
.
She wrote a commentary on
Yasutaka Tsutsui
's work Kyakusō Gijitsu in 1989. In 1994, Saitō married Nobuyasu Isarai, and they currently (2006) have one son and two daughters. While she still occasionally takes acting roles, she spends most of her time with her family. During the 1990s, Saitō began moving from the role of idol star to doing more acting in movies, television, and on stage. She also began writing poetry and doing voice-over
narration
. Saitō is known for being a
songwriter
and
lyricist
, often compared to contemporaries such as
Noriko Sakai
and
Minako Honda
.
Saitō has a wide range of roles, from serious to comedic. Throughout the 1992, most of her roles on stage, TV, and film were serious, dramatic roles. In 2006, she returned to her comedy roots with a role in Wagahai wa Shufu Dearu, reestablishing herself as able to handle many different roles.
Along with
Mitsuhiro Oikawa
, she formed a duo called "Yanake" in 2006 and released Kateinai Date (家庭内デート, Kateinai Date
?
), and made her first singing appearance in seven years on
June 8
,
2006
. This year also marked the 17th year since her appearance on the
Takaaki Ishibashi
owarai
show
Tonwarazu no Mina-san no Okage Desu
.
In the 2006 movie, Sukeban Deka, Saitō plays Saki's mother.
sources: see
LDSFilms.com